Something for everyone — two 18-hole championship courses and a full-length, 9-hole course.
Nowhere else will you find one golf facility with as much selection as Whiteford Valley. We welcome golfers of all abilities, all ages, men and women alike. We mix challenge with beauty, fun with affordability. The grass is green, short, and waiting for your next round of golf.
Visit each of our courses and find out what makes Whiteford Valley Golf Club special!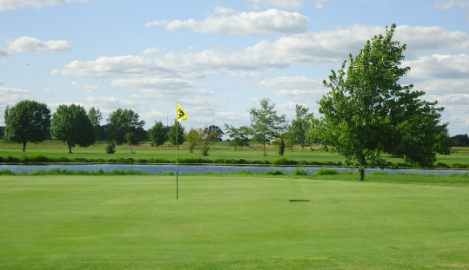 ---
North Course Scorecard
| HOLE | 1 | 2 | 3 | 4 | 5 | 6 | 7 | 8 | 9 | OUT |
| --- | --- | --- | --- | --- | --- | --- | --- | --- | --- | --- |
| Blue Tees | 354 | 477 | 173 | 465 | 151 | 383 | 358 | 389 | 364 | 3114 |
| White Tees | 347 | 465 | 156 | 454 | 139 | 377 | 343 | 313 | 355 | 2949 |
| Gold Tees | 289 | 452 | 156 | 427 | 125 | 306 | 293 | 269 | 279 | 2596 |
| PAR | 4 | 5 | 3 | 5 | 3 | 4 | 4 | 4 | 4 | 36 |
| HCP | 11 | 9 | 15 | 13 | 17 | 5 | 7 | 3 | 1 | |
| | | | | | | | | | | |
| | | | | | | | | | | |
| HCP | 15 | 3 | 5 | 11 | 17 | 1 | 7 | 9 | 13 | |
| PAR | 4 | 4 | 4 | 4 | 3 | 4 | 5 | 4 | 4 | 36 |
| REDTEES | 261 | 415 | 137 | 403 | 108 | 270 | 284 | 260 | 262 | 2400 |
| | | | | | | | | | | |
| 10 | 11 | 12 | 13 | 14 | 15 | 16 | 17 | 18 | IN | TOT |
| --- | --- | --- | --- | --- | --- | --- | --- | --- | --- | --- |
| 184 | 373 | 348 | 481 | 375 | 157 | 526 | 377 | 404 | 3225 | 6339 |
| 175 | 319 | 331 | 459 | 367 | 145 | 516 | 338 | 317 | 2967 | 5916 |
| 168 | 309 | 274 | 420 | 313 | 136 | 473 | 275 | 251 | 2619 | 5215 |
| 3 | 4 | 4 | 5 | 4 | 3 | 5 | 4 | 4 | 36 | 72 |
| 16 | 10 | 12 | 14 | 8 | 18 | 4 | 6 | 2 | | |
| | | | | | | | | | | |
| | | | | | | | | | | |
| 8 | 10 | 4 | 18 | 14 | 2 | 6 | 12 | 16 | | |
| 3 | 5 | 4 | 3 | 4 | 4 | 5 | 4 | 4 | 36 | 72 |
| 155 | 278 | 265 | 413 | 305 | 132 | 469 | 265 | 247 | 2455 | 4889 |
---
West Course Scorecard
| HOLE | 1 | 2 | 3 | 4 | 5 | 6 | 7 | 8 | 9 | OUT |
| --- | --- | --- | --- | --- | --- | --- | --- | --- | --- | --- |
| Blue Tees | 364 | 389 | 360 | 347 | 185 | 413 | 496 | 337 | 354 | 3245 |
| White Tees | 349 | 332 | 312 | 331 | 166 | 344 | 479 | 321 | 338 | 2972 |
| Gold Tees | 292 | 315 | 304 | 285 | 139 | 330 | 393 | 274 | 268 | 2600 |
| PAR | 4 | 4 | 4 | 4 | 3 | 4 | 5 | 4 | 4 | 36 |
| HCP | 13 | 3 | 9 | 15 | 11 | 1 | 7 | 17 | 5 | |
| | | | | | | | | | | |
| | | | | | | | | | | |
| HCP | 15 | 3 | 5 | 11 | 17 | 1 | 7 | 9 | 13 | |
| PAR | 4 | 4 | 4 | 4 | 3 | 4 | 5 | 4 | 4 | 36 |
| Red Tees | 287 | 271 | 269 | 275 | 119 | 298 | 385 | 268 | 262 | 2434 |
| 10 | 11 | 12 | 13 | 14 | 15 | 16 | 17 | 18 | IN | TOT |
| --- | --- | --- | --- | --- | --- | --- | --- | --- | --- | --- |
| 415 | 482 | 334 | 207 | 332 | 342 | 338 | 351 | 330 | 3131 | 6376 |
| 402 | 467 | 320 | 167 | 319 | 330 | 327 | 342 | 281 | 2955 | 5927 |
| 320 | 380 | 284 | 156 | 284 | 304 | 308 | 331 | 243 | 2610 | 5210 |
| 4 | 5 | 4 | 3 | 4 | 4 | 4 | 4 | 4 | 36 | 72 |
| 2 | 6 | 12 | 16 | 14 | 8 | 10 | 18 | 4 | | |
| | | | | | | | | | | |
| | | | | | | | | | | |
| 8 | 10 | 4 | 18 | 14 | 2 | 6 | 12 | 16 | | |
| 4 | 5 | 4 | 3 | 4 | 4 | 4 | 4 | 4 | 36 | 72 |
| 307 | 372 | 278 | 143 | 278 | 292 | 267 | 290 | 228 | 2455 | 4889 |